PHT by Esco Power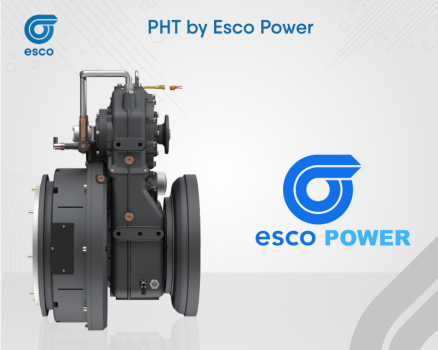 Esco Power unique hybrid propulsion solutions with
Parallel Hybrid Transmission PHT and Hybrid Electric Solution Package HESP!
---
The Parallel Hybrid Transmission (PHT) can be easily installed between the diesel engine and the marine (or industrial) gearbox via SAE connections.
The PHT has a built-in, robust electromagnetic clutch, disconnecting the diesel engine from the main driveline. There is no ratio change at the main drive line. The PTO/PTI output benefits from the integrated ratio making all E-power provided by the electric motor more effective than any other solutions available.

The PHT standard model ranges suit engines up to 7000 Nm. In addition to the Parallel Hybrid Transmissions, ESCO POWER developed a complete Hybrid Electric Solution Package HESP consisting of efficient electric motors, electronic control and command system, control levers, screens, and software to benefit from various operation modes: diesel – electric – automatic – boost – generating – single/cross-feed.
More under PHT-Parallel Hybrid Transmission